Oleh : Ana Maratu Al Sholihah – Digital Account Manager of FortunePR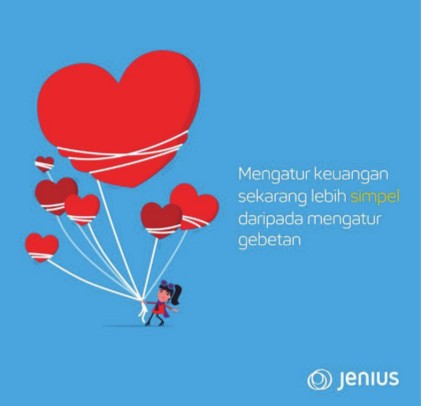 Insight
Menurut data Otoritas Jasa Keuangan, sekitar 100 juta penduduk Indonesia belum memiliki rekening tabungan. Karena itulah, untuk mendorong kepemilikan rekening tabungan di bank, Bank Tabungan Pensiunan Negara (BTPN) meluncurkan aplikasi yang dapat mempermudah nasabah mengelola tabungan mereka via smartphone. Aplikasi yang diluncurkan pada pertengahan Agustus tahun lalu ini dinamakan Jenius dan dapat diunduh di Google Play Store.
Menurut Jerry Ng, Direktur Utama BTPN, masyarakat digital savvy menginginkan praktek perbankan yang lebih mudah, cerdas, aman, dan semuanya dapat dilakukan melalui smartphone.
Aplikasi Jenius merupakan revolusi bisnis perbankan offline menjadi digital banking, karena industri keuangan secara umum juga berevolusi. Tidak hanya business flow-nya yang digital, tapi juga marketing flow-nya menggunakan digital channels. Salah satu kampanyenya yang paling menarik adalah saat memperingati hari Valentine Februari lalu. Jenius meluncurkan kartu limited edition "Glow in the Dark X-card" dan program "Split Bill with Jenius" pada 14-19 Februari 2016. Pada program ini, Jenius membayarkan setengah dari tagihan nasabah dengan limit maksimum transaksi sebesar Rp 500.000.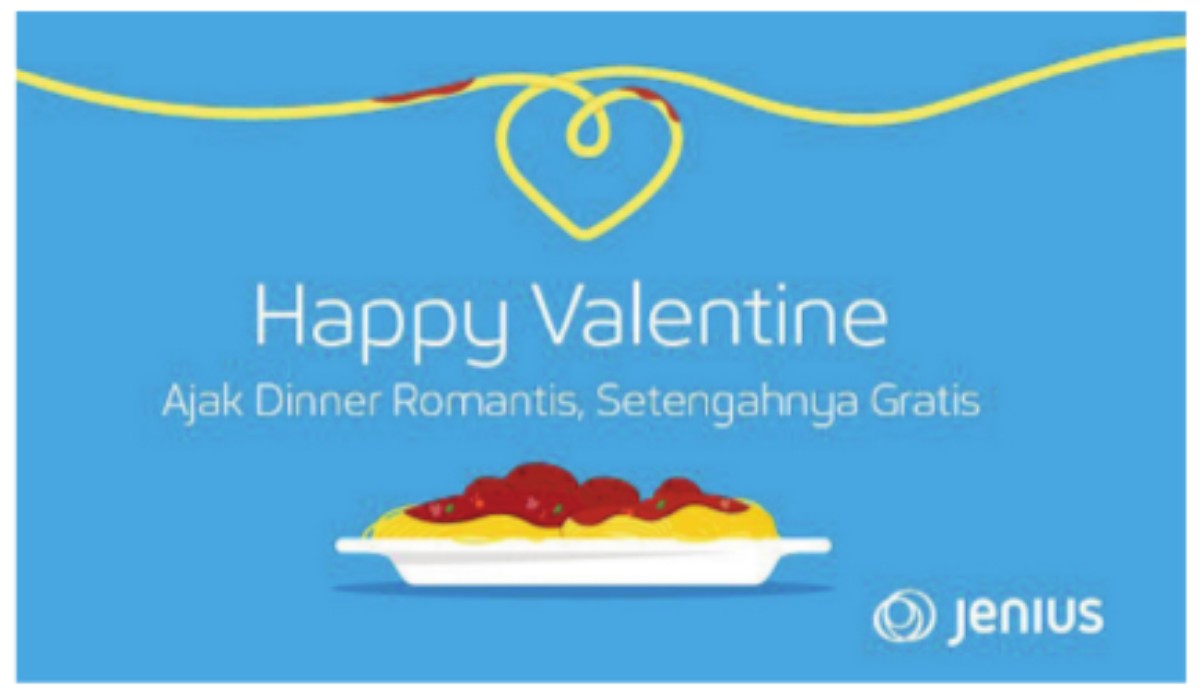 Execution
Promosi digital program ini terbilang seru. Netizen diajak berbagi konten dengan tagar #Bilangnyasayang tapi…… Dalam percakapan online ini, setidaknya ada delapan influencer yang ikut meramaikan konten ini, kebanyakan dari mereka adalah influencer di Twitter. Sebagai contoh, @zarryhendrik sempat men-tweet "#Bilangnyasayang tapi nggak tau ya, bilangnya ke siapa aja hehehe."
Semua percakapan online yang tidak menyebut nama brand ini sebenarnya adalah kampanye pembuka untuk menyambut peluncuran Jenius X-Card limited edition dengan tagar #BuktikanDenganXCard. Tweet-tweet yang seirama dengan tweet @zarryhendrik ini kemudian ditimpali oleh influencer lainnya seperti @Ikramarki "Mana ini yg kemaren pada ngetweet #bilangnyasayang? Kalo berani sini #BuktikanDenganXCard Glow in the Dark kyk gue http://jeni.us/GlowIkram.. "@zarryhendrik Nih ya aku kasih tau, #bilangnyasayang bisa kamu #BuktikanDenganXCard Glow in the Dark buat orang tersayang http://jeni.us/GlowZarry ."
Kampanye Jenius ini memaksimalkan metode story-telling, tentang bagaimana konten digilir bergantian dan bersahutan di tengah keramaian dunia digital. Salah satu prinsip yang dapat kita lihat melalui pemasaran digital dengan metode ini adalah low cost – high impact. Cerita dan konten yang menarik digulirkan, kemudian disebarluaskan secara sukarela oleh netizen.
Titik cerdas dari pola pemasaran digital aplikai Jenius ini adalah penekanan bahwa sebuah cerita tidak harus selalu disampaikan oleh sebuah brand. Sebagai marketer, kita juga dapat memberikan stimulus bercerita pada orang-orang. Dengan kata lain, kita menciptakan sebuah ekosistem dimana netizen membuat ceritanya sendiri dengan media yang kita ciptakan.
Result
Percakapan online berantai dengan #BuktikanDenganXCard berhasil menjadi trending topic di Twitter selama enam jam saat hari Valentine. Hingga saat ini, walaupun promo Valentine sudah berakhir, efek dari kampanye viral ini masih berhasil menjangkau 82,091 akun di Twitter dengan 149,735 online impression.
Melalui kampanye Twitter #BuktikanDenganXCard ini pula, animo pemesanan X-Card Jenius selama kampanye juga meningkat 3x lipat, mencapai 200 kartu per hari. Ini merupakan pencapaian yang mengagumkan dari sebuah O2O (Online to Offline) kampanye, bagaimana konten digulirkan melalui digital channel yang kemudian berujung pada konversi penukaran kartu secara offline.
Beberapa brand memiliki tingkat retention yang kecil ketika melakukan promosi pemasaran yang berkala dan hanya terpaku pada high season atau moment-moment komersial tertentu. Sedikit brand yang berhasil memenangkan hati pelanggan dalam jangka waktu panjang. Pemasaran 'Jenius' ini akan memiliki efek jangka panjang yang baik apabila kegiatan komunikasi pemasarannya tidak terpaku pada moment-moment tertentu, karena nantinya pelanggan akan mengidentifikasikan brand ini sebagai brand 'senang-senang sesaat'. Metodologi story telling sebenarnya adalah metode komunikasi pemasaran yang sangat baik apabila dimanfaatkan untuk setiap moment pemasaran, bahkan ketika tidak ada moment komersial sama sekali, karena inti dari metode ini adalah memanfaatkan cerita dari berbagai sudut pandang dan waktu.
This Article also published at http://mix.co.id/marcomm/brand-communication/digital-brand-campaign-bilangnyasayang-si-jenius