Photo : (From Left to Right) The collection of Restu Anggraeni, Zaskia Sungkar, Ria Miranda and Norma Hauri
Wardah, one of the pioneers in Indonesian halal beauty brands, strengthening its existence in the global market by announcing a lucrative partnership with world-renowned prestigious fashion event, Dubai Modest Fashion Week 2017 as the Makeup Partner, which was held on December, 8th – 9th, 2017 in Dubai, United Arab Emirates.
Elsa Maharani, Public Relation of Wardah, quoted, "Wardah's participation as the makeup Partner in Dubai Modest Fashion Week 2017 is a manifestation of our commitment as well as our support to the fashion industry development, particularly modest fashion. For Wardah, beauty and fashion are inseparable and support each other. Wardah's participation in Dubai Modest Fashion Week 2017 is the next step to firmly establish Wardah's existence in the global market, especially with Wardah's character as a beauty brand that uses safe and halal materials."
With the theme 'Color Euphoria: Celebrating Life in Full Color', Wardah encourages women all over the world to celebrate a colorful life with a selection of vibrant colors that accentuate the character of modest fashion through four make up look created exclusively for Dubai Modest Fashion Week 2017: Cyan Look, Magenta Look, Yellow Look, and Black Look.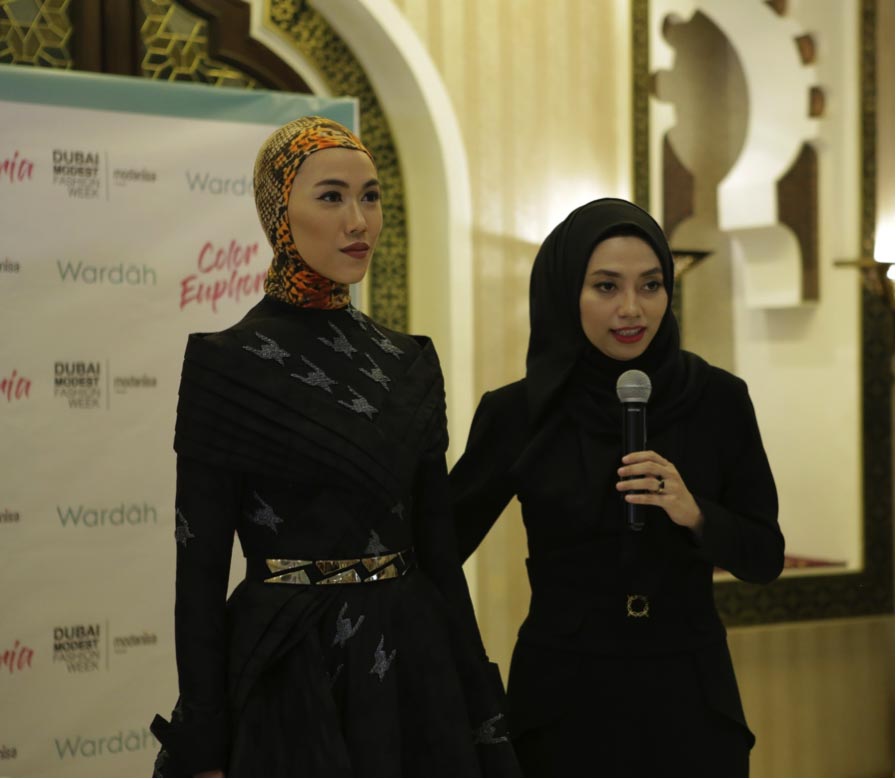 Photo : Norma Hauri (Fashion designer) explains about her design to the media
At this event, Wardah also enhanced its commitment to support the Indonesian fashion industry by introducing several Indonesian prominent fashion designers to present their creations in a special fashion show at Dubai Modest Fashion Week 2017.
Yunita Lianingtyas, a Public Relations of Fortune PR, closed, "This is not the first time Wardah has participated in a prestigious international fashion event, as a part of Wardah Fashion Journey program as their true commitment in supporting the growth of Indonesia fashion industry. This year, Wardah has participated in several world renown fashion events from Asia Islamic Fashion Week 2017 to New York Fashion Week Spring/Summer 2018, and providing support to Indonesian fashion designers that showcased their collections in those events."