Oleh : Francisca Adinda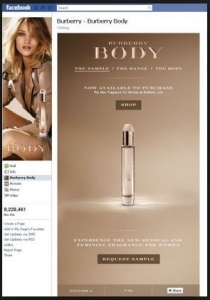 Kita telah memasuki era transformasi digital yang  berdampak pada ketergantungan dalam kehidupan sehari – hari kita. Dan Burberry, salah satu merek mewah dari Inggris memanfaatkan momen tersebut untuk merevitalisasikan merek mereka yang sudah ada dari tahun 1856.
Burberry adalah merek fashion yang didirikan oleh Thomas Burberry pada tahun 1856, 39% market dipegang oleh Asia Pacific. Dalam artikel ini saya akan membahas kesuksesan peluncuran minyak wangi Burberry Body Fragrance yang strateginya menurut saya "out of the box" tetapi tetap practical. 
Interaksi antara Burberry dan customer melalui media sosial.
Minyak wangi Burberry diluncurkan pertama kali pada April 2013. Strategi promosi produk  awal mereka adalah pemanfaatan dari aset – aset digital yang telah diciptakan, sebut saja Facebook (mempunyai 16 Juta fans, dan merupakan akun Facebook dengan fans terbanyak untuk merek mewah), Twitter (mempunyai 2 Juta pengikut, dan merupakan pelopor untuk "live tweeted show"), Instagram, 900 Ribu pengikut, Instagram Burberry juga merupakan pelopor untuk "Insta Video", Youtube, dengan sedikitnya 2 Milyar jumlah penonton untuk setiap fashion show yang di unggah ke akun Youtube Burberry. Pinterest, platform ini digunakan oleh Burberry untuk memposting ide – ide akan produk mereka, kehidupan selebriti di Inggris yang mengenakan produk Burberry. Lalu ada aplikasi bernama Vine, khusus memposting video – video produk pakaian laki laki Burberry. Tumblr, di aplikasi ini, customer bisa memposting foto – foto mereka menggunakan trench coat  (trench coat adalah produk andalan dari Burberry di Inggris).
Interaksi antara Burberry dengan customer melalui sarana digital lainnya.
Selain media sosial, Burberry juga memaksimalkan penggunaan sarana digital lainnya seperti website, blog dan juga mobile apps. Yang terbaru diluncurkan adalah Burberry bespoke, merupakan bagian dari website, dimana calon customer bisa memesan trench coat sesuai dengan ukuran, bahan dan potongan sesuai selera. The Art of Trench, merupakan bagian dari situs yang disukai oleh masyarakat Inggris, dimana semua pemakai trench bisa men share semua foto – fotonya di situs ini. Menurut CEO dari Burberry, A. Ahrendts, "yang terpenting adalah customer mempunyai akses yang mudah ke Burberry dimanapun kapanpun, dan mereka akan merasakan perasaan yang sama terhadap merek Burberry itu sendiri tanpa perduli dari mana mereka mengaksesnya" . Maka diluncurkanlah "Burberry World Live" pelopor toko digital pertama, dengan desain seperti toko sesungguhnya, yang mengizinkan customer untuk berbelanja secara virtual.
Burberry menggunakan digital aset yang ada untuk peluncuran produk minyak wangi baru.
Dengan seluruh inventori digital yang ada, dan juga program komunikasi yang menyeluruh, pada saat diluncurkannya minyak wangi Burberry Body Fragrance, berhasil menembus 250.000 pembeli,  merupakan peluncuran minyak wangi Burberry yang dinilai paling berhasil sampai saat ini. Dibuktikan dengan bergesernya urutan merek Burberry dari urutan 19 menjadi urutan nomor 9 di grafik penjualan minyak wangi Amerika.
Interbrand, juga memberikan penghargaan Burberry sebagai merek barang mewah yang mempunyai tingkatan yang hebat selama 4 tahun berturut – turut (Interbrand adalah perusahaan konsultasi merek yang terkenal di Amerika sejak tahun 1974). Selain itu Burberry dianugerahi "highest digital customer awareness" dan merek nomor 1 di "Fashion digital IQ Index" , tidak hanya itu Burberry juga berhasil meningkatkan rating konversi penjualan sepanjang tahun (Laporan tahunan 2012-2013).