Photo (from Left to Right): Andyan Pradipto (Head of Wireless Marketing and Solution of ZTE Indonesia), Chris Mulley (Principal Architect, CTO Group of ZTE Corporation's Global Sales and Service Division), Bai Jie (Marketing Director of ZTE Indonesia), and Jonathan Hoang (Senior Architect CTO Group ZTE Corporation) took a photo together in exclusive interview at Telkom University, Bandung.
ZTE Corporation, one of the leading provider of communication solution, enterprise and technology consumers for internet mobile, celebrates Telkom University 4th Anniversary on September 28th, 2017 in Bandung, West Java.
Through the tagline "Leading 5G Innovations", ZTE showcase some of their innovative technological solutions during the event such as the Massive MIMO & 5G, Network 2020, 5G Flexhaul, Smart Home, and Big Video. For Smart Home Technology, ZTE also presented their innovations through unique house shaped miniature, so visitors can get a more real illustration for every Smart Home products.
Quoting Bai Jie as the Marketing Director of ZTE Indonesia, the company has three main focus. The first is pushing the development of 5G globally. The second is to enable digital transformation. The third is to build a healthy technological ecosystem that aim to create connectivity without limit through valuable services.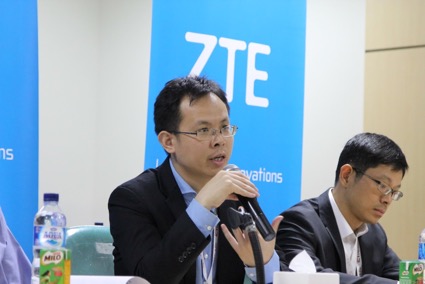 Photo: Bai Jie as the Marketing Director of ZTE Indonesia explaining about ZTE's new vision of leading 5G innovations.
Jonathan Cohen as the PR Consultant of Fortune PR who handled the event said "ZTE participated in Telkom University 4th Anniversary Celebration by showcasing their innovations in supporting 5G and technological developments in Indonesia. In the future, ZTE will continue to support the telecommunications network in Indonesia."