Photo (Left – Right): Matthias Yeo (Asia – Symantec, CTO), Paul Serrano (Nutanix APJ, Chief Evangelist), Susanto Djaja (PT Metrodata Electronics, Tbk., President Director), Mulia Dewi Karnadi (Microsoft Indonesia, Small, Medium, Corporate & One Commercial Partner Director), and William Chaylis (Data Systems International, Inc., Regional Vice President SE Asia) holding hand in hand to look forward for the cooperation on Metrodata Solution Day (MSD) 2017.
Coincide with Metrodata Solution Day (MSD) 2017 conference and exhibition held in Shangri-La Hotel Jakarta on September 12th, 2017, Nutanix as one of the fastest-growing start–up company in the world for distributed computing and storage virtualization industry talks about facing the digital transformation.
This year's MSD conference and exhibition raised digital and business disruption as the grand theme. Alongside with Nutanix, this Business to Business (B2B) Information Communication Technology (ICT) conference and exhibition was attended by various major IT players in Indonesia including DellEMC, McAfee, Microsoft, SAP, and Symantec. Nutanix was one of the leading product under Metrodata Electronics, a company who initiated the event.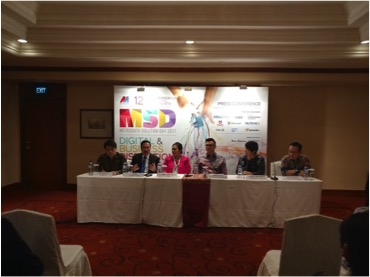 Photo: (Left – Right)
Paul Serrano (Nutanix APJ, Chief Evangelist) gave an explanation on how Nutanix will shape the future.
Quoting Dheeraj Pandey as CEO of Nutanix, the idea of hyper-converged and cloud computing has made companies today can utilize storage, data processing, intelligence, Internet of Things (IoT), and the communication between one division to another. Nutanix is a product that has a significant role and function towards the digital transformation in Indonesia. This is in line with their vision as the simplified and harmonized data center operations for the multi-cloud era.
Ivan Christianto as the PR Consultant of Fortune PR for Nutanix said "During the conference, the key messages that Nutanix implied was how cloud computing can present quickness for businesses and how to utilize many useful opportunities in the future."