Photo (From Left to Right): Dian Pelangi, Barli Asmara, and Berlian Nandiasa who are the judges for Wardah Fashion Award 2017, gave comments to the participants about their design collections.
As one of the leading cosmetics brand in Indonesia, Wardah Fashion Award was held on September 28th, 2017 at Lewis & Caroll Tea, Jakarta to support the fashion industry in Indonesia by searching for talented local fashion designers.
Out of 25 chosen designers from various cities in Indonesia, Wardah Fashion Award has finally selected their top 12 finalists that will showcase their creation in the upcoming Jakarta Fashion Week on October 21st to 27th 2017. Professional Indonesian designers such as Barli Asmara, Dian Pelangi, Carolina Septeria, Berlian Nandiasa, and Ai Syarif has been appointed as the judges. Besides showcasing their collection in Jakarta Fashion Week, the finalists got a chance to be coached directly by Barli Asmara to plan their business strategy.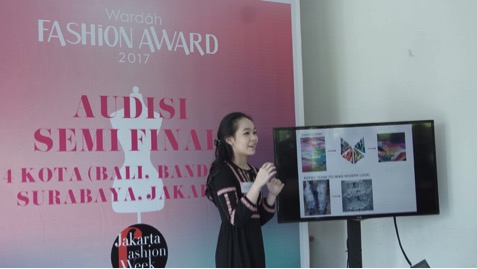 Photo: One of the participants of Wardah Fashion Awards 2017 when presenting in front of the judges.
Shiva Vinneza as the PR Consultant who handled the event said "Wardah fashion award is a truly inspiring program. Wardah elevates the young generation by giving education about fashion design and the business strategies. Wardah provides several professional designers as a mentor to give experience to the participants. It such an extraordinary chance for them to join Wardah fashion award program."