Analysed by: Tubagus Arief – Associate Director of Fortune PR

In aiming to increase scope, traffic, and lead, social media is one of the important tools that needed for in business matter. It can engage your audiences, build awareness and promote the brand. In terms of the audience, social media is an important source to communicate and updating the information. But of course, social media should be properly used to keep the reputation of your brand and also to avoid brand damage. Moreover, making recovery is a hard thing to do and sometimes it's almost impossible. Below are some examples of social media mistakes that you should avoid at any cost according to Carly Stec on 10 Social Media Blunders Even the Big Brands Make. We put 6 of them which are related to Indonesia market:
(Image source: ids.uni.edu)
Too many hashtag
Using hashtag in your Instagram post can boost promotion, facilitate conversation, and ease searchability. However, putting too many hashtag, will make it redundant, no matter how attractive the picture.
Using irrelevant trending hashtag on Twitter
It's not only over-hashtagging that will ruins the communication strategy, but using the wrong hashtag, will also damage your message.

Posting an article on Facebook without image
Using image on your article will attract more audience. According to the book by neuroscience and reading researcher, Maryanne Wolf called "The Story and Science of the Reading Brain", nearly 90% of the information submitted to the brain is visual, with images processing 60% thousand times faster than text. It is reported that 40% of people respond to visual information over plain text (http://avalaunchmedia.com/visual-content-works/) An example by Mattel who share their post on Facebook about Hot Wheels accomplishment.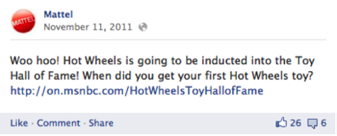 If Mattel choose to insert the image on the post, it will increase the level of nostalgia-based engagement raised by the question: When did you get your first Hot Wheels toy? An image has the potential to create a social buzz, reinforce brand awareness, and create a more interesting visual landscape for your social media platform.
Adding a URL in Facebook status
The less the better. Facebook has already generate thumbnail image and description that include the link when somebody share a link. The link format shows some additional information associated with the link, such as the beginning of the article, which makes it easier for someone to decide if they want to click through. This format also makes it easier for someone to click through on mobile devices, which have a smaller screen.Then you can more accurately determine if you ought to be including the extra link or not. So, unless it's really needed, you don't have to put extra URL on it.
Posting irrelevant tweet
If you're going to post something on Twitter, you better separate the content between your brand and your personal tweet. Posting something that has little or even no relevance to your products, brand or service, will annoy your followers who don't really care to hear about.
Not responsive on Twitter
Being responsive on social media will make your customer happy, especially when it comes about complaint. Nowadays, customer tend to address their dissapointment through social media channel and not responding to their tweet will make unpleasant experience.
Brand building using the social media is highly recommended in the digital era. In addition to conducting awareness, social media allows brand to directly interact with potential customers at anytime and anywhere. Some of the points above that have been mentioned are just a few points that must be considered in using social media for brand building, because there are still many more to be considered in the use of social media in order for it not to backfire your brand. The most important thing about social media is the selection of channel that will be used, where each social media has its own function and usage.
Recognize the goals and objective of using social media before you sign up for an account. For example, if your business is in the culinary field, then it will be best to display food images in order to attract the audience. Therefore Facebook and Instagram are suitable to carry out the awareness for your business.
Once you decided which social media to use, you can start creating a content plan so you know what to post in the future. When you learned all the basics above, please note the 6 points of social media mistakes that were described previously. Not only will the audience recognize your brand, but your audience will have the chance to interact with you on social media. This will keep your brand away from unexpected brand damage.
Good luck.