A community-based program to build your corporate reputation

"It takes 20 years to build a reputation and five minutes to ruin it. If you think about that, you'll do things differently." -Warren Buffett-
When we talk about reputation, what do you think about the advantage of a company with strong reputation comparing to those who have less? We know that reputation is not a program focused on a short-term result. It takes time, effort and eventually money to develop a positive and strong reputation in return increasing your company's value in the marketplace: increase company's profit, strengthen the company's position, as well as to provide sustainable competitive advantage.
In all size of businesses, reputation is the most valuable asset in promoting a company. The corporate reputation generally refers to how stakeholders, customers, employees, shareholders, local communities as well as the industry perceive a company. Each stakeholder has particular perspective and different degree perception towards a company. Stakeholders are affected by the actions of the company and in turn, their reactions can affect the company. When stakeholders trust, admire, and respect a company, empathy is built providing affirmation towards the company's corporate actions, such as strategic investment, joining its programs/ campaign, buy their products, etc.
There are two elements that build a reputation:
Building a positive and strong corporate reputation is very challenging. A company can initiate to develop strategies, beginning with identifying and defining the vision, mission, and values of the firms, highlighting the firm's strategic purpose. In order to build the trust of stakeholders and positive reputation, it should be in line with three key aspects: the company's operational, social impact, and financial stability.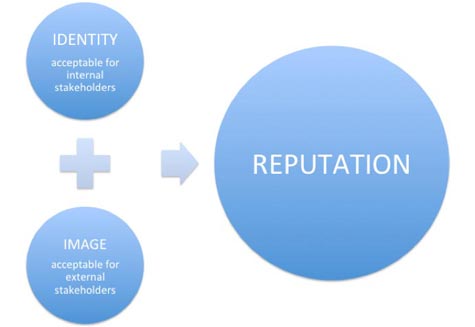 A company can also build its reputation through Corporate Social Responsibility (CSR). In today's business environment, CSR is becoming increasingly an important undertaking for stakeholders. It is considered as a new framework of strategy to increase a company's competitiveness and sustainability. CSR activities will have various positive impacts that enable firms to improve its reputation towards a broad range of stakeholders, including employees, customers, suppliers, investors, etc.
To develop a good CSR strategy, there are several phases that should be considered: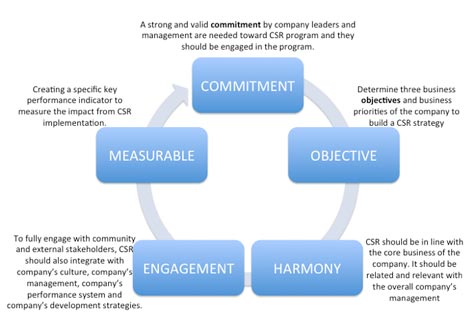 Take OSRAM Indonesia as an example. This global leading light manufacturer was committed to help the remaining traditional nighttime fishermen in the coastal area of Muara Angke, North Jakarta with a more durable, economical electric lighting to lure fish into their nets and reduce their operational cost to fuel their electric generators. The company provides the fishermen with their long-lasting, economical yet strong LED light bulb product through a CSR initiation program named "Light for Fishermen". This program was not only helping the fishermen in reducing their operational cost and better productivity, but it also successfully gained positive sentiments and build the awareness of OSRAM as the leader in lighting industry and frontrunner of LED lighting technology. Through OSRAM's commitment to support local people, OSRAM has started to build their positive reputation in the marketplace.
If done correctly with enthusiasm and strong commitment, a community-based program will continue to resonate well in the future. Building your corporate reputation through CSR has a strong positive effect, not only for the company's image, but also in building more positive attitude of employees, customers and investors. Most importantly, your corporate reputation can increase your company's value, representing your company's mission and vision, and engage communities to share the company's successes