Oleh : Indira Abidin (Chief Happiness Officer Fortune Indonesia)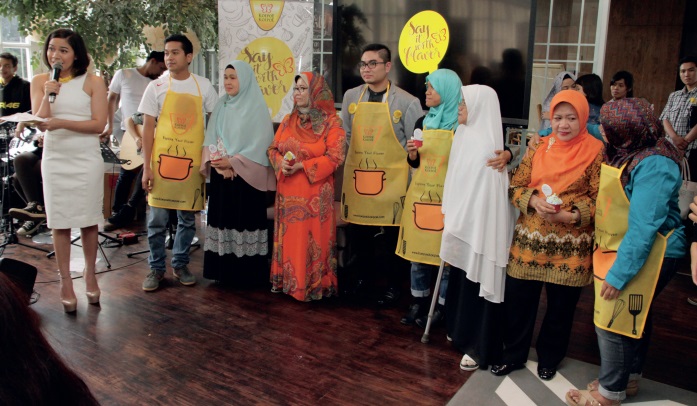 Brand Koepoe Koepoe sebagai salah satu brand legacy yang sudah hadir di dapur ibu-ibu Indonesia sejak tahun 1942 kini tampil lebih muda dengan kampanye Say It With Flavor nya. Kampanye Say It With Flavor ini menghadirkan sebuah video di YouTube yang sudah mendapat 6.079 views. Saya tidak tahu apakah video di Youtube itu dijadikan juga TVC-nya atau tidak.
Menurut saya, video itu mencoba menyentuh hati audience-nya, yaitu ibu-ibu muda yang ingin membahagiakan keluarganya, apakah itu ibunya, atau suaminya. Video itu dibarengi berbagai video memasak 15 menit menggunakan produk-produk Koepoe Koepoe, seperti rempah-rempah, bahan kue, pasta, pewarna, biji-bijian, penyedap makanan, peningkat kualitas makanan, dan gula cair. Semua resep disajikan pula dalam website barunya, dan diluncurkan melalui sebuah media gathering, serta di-share melalui channel-channel media sosial.
Kampanye Say It With Flavor ini dilakukan dengan sangat terintegrasi. Diawali dengan riset, apa yang menjadi kegalauan target audience utamanya, ibu-ibu muda. Di sini, kegalauan yang coba dijawab oleh brand Koepoe Koepoe adalah kemampuan, kesempatan, dan waktu untuk bisa memasak dengan cepat, sehingga semua kesibukan mereka tak harus terganggu dengan kegiatan memasak. Cukup 15 menit.
Konten yang dibuat adalah konten yang dibutuhkan ibu-ibu sejagad: resep. Dibuat secara multimedia dan text, ditampilkan secara multi channel pula. Media gathering dibuat, menurut saya, sebagai peluncuran membangun publisitas dan keberadaan di berbagai media, menginformasikan apa yang sudah dilakukan, menarik pembaca media tersebut untuk berkunjung ke website.
Efektif atau tidaknya kampanye yang dilakukan brand Koepoe Koepoe, tentu kita harus lihat nanti hasilnya bagaimana. Mulai dari parameter berapa persen penjualan bisa naik, apa saja indikator reputasi yang berhasil didapatkan, dan lain sebagainya.
Tentang media gathering, tujuan sebenarnya dari media gathering sesungguhnya hanyalah gathering atau ngumpul saja. Tidak ada penyampaian berita. Itu tujuan orisinilnya. Artinya, kegiatan media gathering murni membangun hubungan lebih akrab dengan teman-teman jurnalis. Dengan demikian, teman-teman jurnalis merasa nyaman untuk menghubungi. Sementara itu, brand atau PR team juga lebih nyaman membagi perkembangan terkini dari brand mereka ke depannya. Dalam perkembangannya, media gathering memang sering dicampur atau seringkali ada share info di sana. Bahkan, tujuan utama untuk bonding dengan jurnalis jadi tidak tercapai, alias bisnis saja.
Nah, jika brand Koepoe Koepoe sampai melakuakn launching dalam format media gathering, bisa saja. Asalkan, mereka bisa benar-benar membangun experince di sana. Media gathering yang digelar Koepoe Koepoe yang mampu menghadirkan ibu dari sejumlah jurnalis dan membuat audience terharu hingga menangis, sebenarnya ini sangat touchy. Selanjutnya, brand Koepoe Koepoe tinggal mencari cara bagaimana mengaitkan emosi yang sudah terbagun dengan sangat baik ke product experience. Sebenarnya, konten touchy di media gathering itu bisa dibuat dalam format video-nya di Youtube.
Begitu juga dengan masak 15 menit, bisa dilakukan selama acara media gathering berlangsung. Sebab, hal itu dapat menyampaikan brand promise dari Koepoe Koepoe—yang juga tayang di Youtube lewat format video.