Oleh : Ana Maratu – Digital Account Manager of Fortune PR
Tantangan Bisnis
Pada 2015 lalu, Asosiasi Perusahaan Air Minum dalam Kemasan Indonesia (ASPADIN) mengutarakan bahwa total produksi nasional AMDK mencapai 25 miliar liter. Dikutip dari Tirto.id1, 60 persen dari angka tersebut dikonsumsi secara dominan oleh penduduk di Jabodetabek dan sisanya menyebar di seluruh Indonesia.
Menariknya, dari penduduk Jakarta sebesar 9,6 juta jiwa, lebih dari 65 persennya ternyata mengkonsumsi air minum dalam kemasan (AMDK). Walaupun ada alternatif air pipa dari PDAM, konsumsi AMDK tenyata tidak berkurang, justru bertambah setiap tahunnya. Banyak dari kita yang tahu bahwa produksi AMDK adalah industri produksi bermargin kecil. Keuntungan justru diambil dari jumlah produksi yang massif. Jelas, industri ini adalah industri yang fokus pada kuantitas produksi untuk mendapatkan margin yang besar.
Saat ini, ASPADIN sendiri mencatat ada 60 perusahaan AMDK yang di beroperasi di Jakarta dan sekitarnya. Pasar dengan demand besar ini sudah terlanjur ramai diperebutkan oleh 60 produsen. Apa yang harus dilakukan oleh brand AMDK untuk memenangkan pasar ini?
Danone Aqua, salah satu market leader dalam pasar ini cukup cerdik untuk memenangkan pasar. Danone Aqua tidak hanya fokus pada interaktif aktivitas yang seasonal dan berbudget besar. Danone Aqua melakukan strategi branding dengan memanfaatkan kanal digital; website interaktif bertajuk 'Bagaikan Air'.
Insight and Execution
Sebagai salah satu strateginya untuk menjadikan brand Aqua semakin dekat dan dikenal masyarakat sebagai brand yang menginspirasi, Danone Aqua menginisiasikan kampanye bertajuk 'Bagaikan Air' yang diselenggarakan
secara nasional. Kampanye ini berpusat di website interaktif mereka di http://www.bagaikanair.com/.
Konten website 'Bagaikan Air' ini mengajak audiencenya untuk tidak menunda berbuat kebaikan. Inti pesan yang sepertinya ingin disampaikan Danone Aqua dalam kampanye ini adalah fenomena yang terjadi di masyarakat Indonesia dimana masih banyak orang yang menunda atau tidak menyegerakan berbuat kebaikan. Filosofi yang dibawa adalah filosofi seperti air yang fleksibel, murni, dan tenang dimana ketiga hal ini digambarkan identik dengan kebaikan (selain juga karena kampanye ini berasal dari brand AMDK, cukup cerdas kiranya mengaitkan inti pesan kampanye dengan identitas produk/brand itu sendiri).
www.bagaikanair.com ini secara dominan berisi mengenai cerita inspiratif aksi kebaikan yang terjadi dalam kehidupan sehari-hari kita. Dalam websitenya juga, Aqua mengajak masyarakat untuk berbuat kebaikan dengan menyediakan informasi dan akses untuk menjadi relawan pada program dari komunitas-komunitas sosial. Selain itu, pengungjung web dapat berbagi tekad kebaikan yang akan mereka lakukan, dan foto aksi kebaikan orang lain yang mereka temukan dalam kehidupan sehari-hari.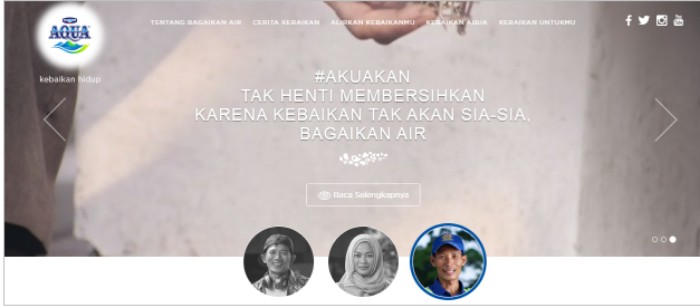 Dalam website ini, kita dapat melihat bahwa beberapa komunitas-komunitas sosial bergabung dalam kampanye ini, seperti komunitas Rumah Cemara, Indonesia Berkebun, Koalisi Pemuda Hijau Indonesia, dan kitabisa.com.
Fitur menarik lainnya dari website ini adalah 'Kisah Kebaikan' dimana pengunjung website dapat berbagi tekad dan kisah kebaikannya dengan melanjutkan tagar #AkuAkan. Fitur ini terintegrasi dengan kanal media sosial 'Bagaikan Air', jadi para pengunjung website akan berada dalam ekosistem digital yang saling terintegrasi.
Result and Personal Input
Kampanye branding ini berhasil mendapat impresi bulanan rata-rata di angka 20,697, dimana setiap satu harinya ada 685 akun media sosial yang menyebarkan tekad kebaikan mereka melalui #AkuAkan dalam fitur 'Kisah Kebaikan'.
Websitenya sendiri, dalam satu bulan dapat dikunjungi secara organic oleh 5,000 visitor, dengan engagement rate yang cukup tinggi. Bagaimana tidak, angka bounce rate website ini terbilang rendah dan efisien, yaitu hanya 9,84% (di bawah 30%). Average Visit Duration per-satu pengunjungpun terbilang cukup lama, rata-rata selama 12:41 menit, yang artinya satu pengunjung menghabiskan 12 menit untuk mengeksplor dan memanfaatkan fitur dalam website ini.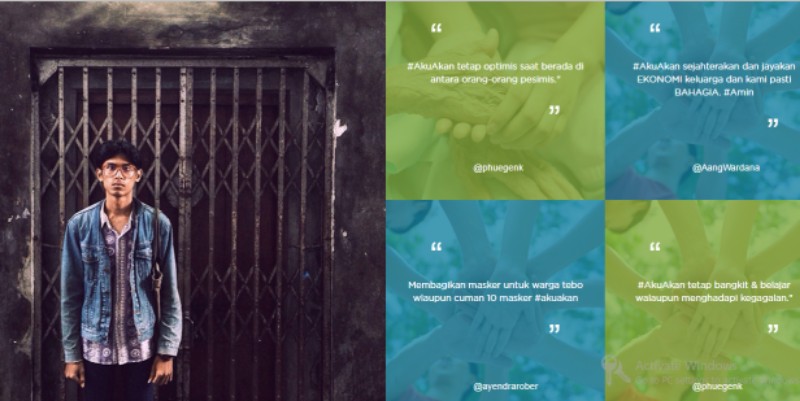 Pada akhirnya, digital marketer akan merasa puas melihat konten kampanyenya tidak hanya membantu menaikan nilai brand awareness level, tetapi juga engagement rate. Kampanye unik ini, yang tidak fokus pada penjualan langsung dan fokus pada ajakan berbuat baik, merupakan salah satu strategi branding yang cukup berhasil. Kita jadi dapat melihat, bahwa Danone Aqua tidak hanya sedang berusaha memenangkan jumlah jualan di pasar, tapi berusaha memperkuat value brand sebagai brand yang senantiasa menginspirasi.
This Article also published at http://mix.co.id/marcomm/news-trend/strategi-branding-aqua-dengan-kanal-digital-website-interaktif-bagaikan-air