Hankook Tire aims to solidify technology leadership in the automotive industry at the high-tech facility with optimal research environment
Implementing Hankook Tire's 'Proactive' corporate culture via innovation in the working process
October 18, 2016 (Seoul, Korea) – Hankook Tire today announced that it held an opening ceremony of 'Hankook Technodome', the new central R&D center in Daejeon, Korea, as the company headways into becoming a global top-tier brand based on technological leadership.
Hankook Technodome is an embodiment of Hankook Tire's strong commitment in R&D innovation, and will act as a core instrument of the company's global R&D infrastructure. At the high-tech facility providing optimized research environment, Hankook Tire plans to focus on securing original technology for the future to lead the way of Hankook Tire's mid-long term R&D plans to lead the latest tire technology and world class quality. The new R&D center will also play a pivotal role in implementing Hankook Tire's proactive corporate culture by innovating the working process, and continuously strengthen the company's R&D capability to step towards top-tier company.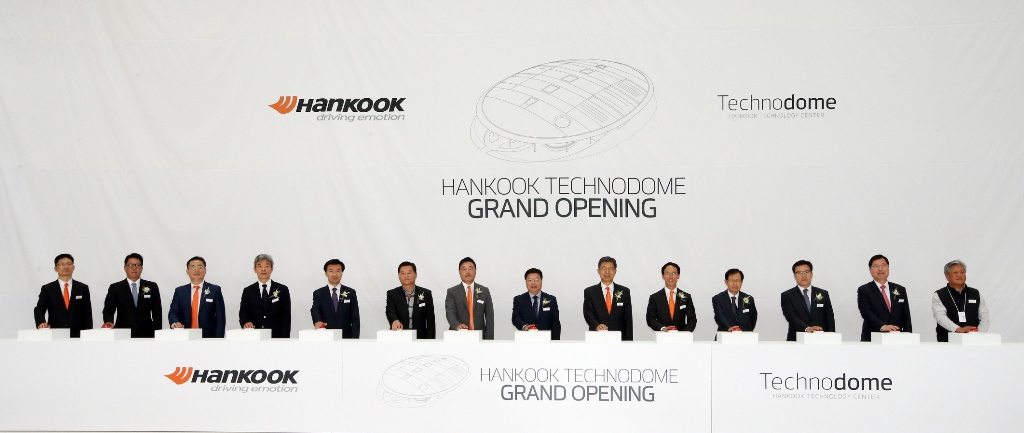 Hankook Technodome was designed by Foster + Partners, an architectural firm founded by Sir Norman Foster, integrating Hankook Tire's cutting-edge technology, vision and culture. Located in Daejeon, South Korea, Hankook Technodome is an outcome of a total investment of KRW 266.4 billion. The R&D center stands on a massive floor space of 96,328㎡, with an R&D building with 6 stories and a residence building consisted of 8 stories, equipped with employee accommodations including a fitness center, medical clinics, café, as well as day a care center.
Through Hankook Technodome, Hankook Tire achieved Gold certification of LEED (Leadership in Energy and Environmental Design) by USGBC (U.S. Green Building Council), one of the most prestigious green building certification system.
In addition, Hankook Technodome is ready to further strengthen its technological leadership to effectively tackle rapid changing business environment of automotive industry as new technologies such as electric vehicles and self-driving cars prevail. It is equipped with various state-of-the-art research and testing facilities. The R&D center has introduced Driving Simulation system as well as 'SPMM (Suspension Parameter Measuring Machine)' to carry out virtual tests and record digital results. At the Hankook Technodome, Hankook Tire will showcase future technology integrating eco-friendly material, new material development, and simulation technology as well as networking technology.
Also, Hankook Tire plans to fulfill its indigenous corporate culture dubbed "Proactive Culture" via Hankook Technodome to solidify its position as a global top-tier company. Under the 'One Company Concept', 10 independent offices and laboratories are housed under the same roof to symbolize that all the offices are of one company. Also, the center arena was created for employees to organically enjoy comfortable and active communication.
Mr. Seung Hwa Suh, Vice Chairman and CEO of Hankook Tire said, "Hankook Technodome is equipped with the high tech facilities and the optimal work environment to strengthen our global competitiveness through innovation, while actively dealing with rapid changes in the business environment and delivering products optimized for various customers' needs." He added, "I believe the new Hankook Technodome will be a great foundation to lead the future of tire technology, as it symbolizes optimized process in development of future technologies and securing original technologies through strengthening our headway towards a global top-tier company."