The contract starts from July 2016 with an initial duration period of 3 seasons.
The partnership between Hankook and the 2016 UEFA Champions League winner furthermore represents the shared spirit of winning innovation in premium brand equity.
July 13, 2016 (Seoul, Korea) – Hankook Tire, an already long time active global sports marketing player, added high profile Real Madrid CF to its premium sports marketing and sponsoring portfolio. The initially three year (three seasons) agreement with the recent UEFA Champions League winner takes effect as of July 2016and beside perimeter advertising during all home games at the football club's Santiago Bernabéu Stadium, will include a range of further global marketing rights.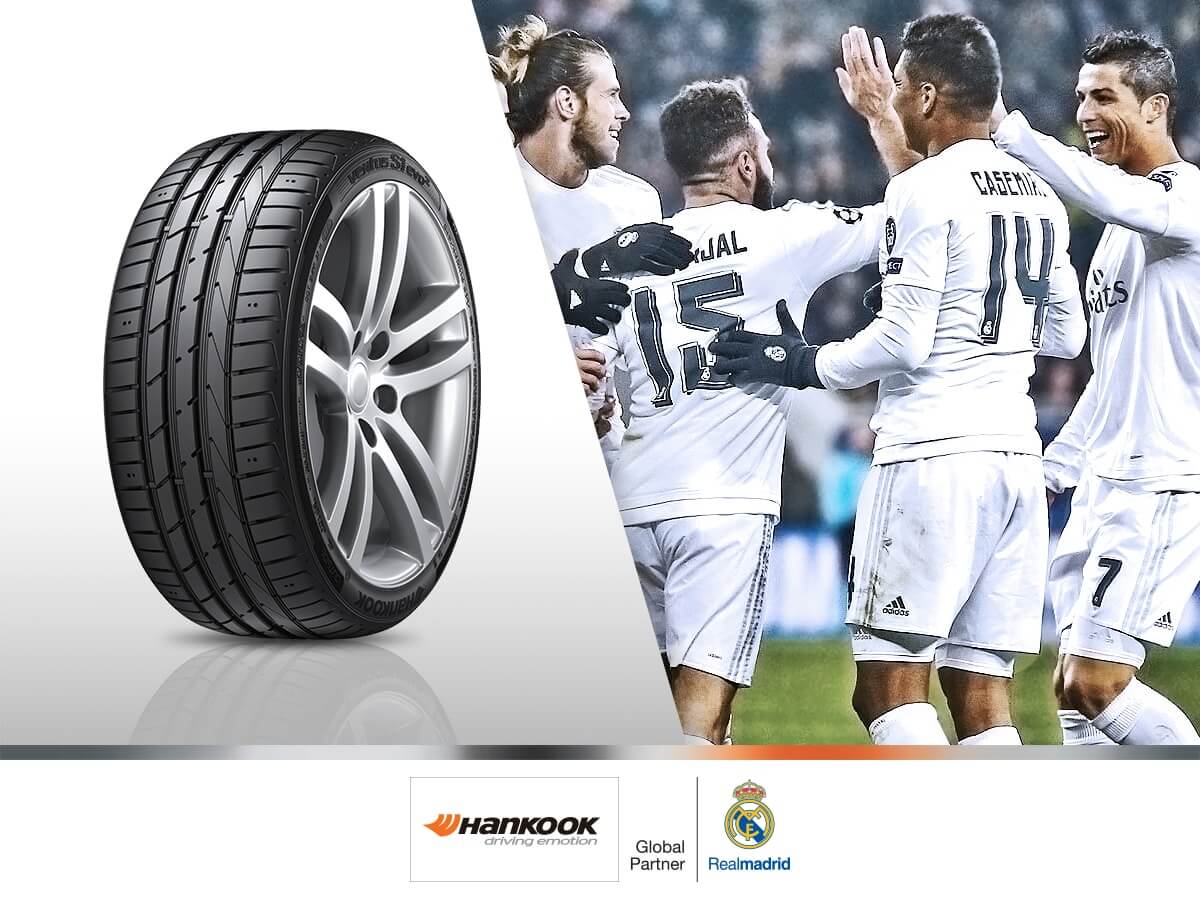 The agreement signifies the shared spirit of winning innovation in premium brand equity, manifested in both Real Madrid's dominating global football success, and Hankook Tire's proven technological excellence and premium products. Both parties promote forward looking investments, innovative strategies and consistent efforts for customers and fans. Hankook Tire aim to increase brand recognition and expand its global footprint along with Real Madrid's worldwide popularity.
"This strategic partnership with one of the world's best football clubs is a gift to our customers and of course the fans of the Hankook brand around the world." said Mr. Seung Hwa Suh, Hankook Tire's Vice Chairman & CEO. He added that"as Hankook Tire and Real Madrid share the culture of winning innovation in respective fields, we believe that the partnership would be another stepping stone for both parties to enhance reputation as premium brands in the global community. Hankook Tire will provide outstanding driving performance to our customers matched with Real Madrid's outstanding contribution to football."
The sponsorship agreement between Real Madrid and Hankook Tire will not be limited to the team's home matches of the Primera División (the Spanish1stleague), but also includes Real Madrid's Copa del Rey matches (the Spanish national soccer cup) as well asinternational home and away matches. Based on 450 million Real Madrid fans all over the world, Hankook will actively communicate its brand philosophy and innovative products and services through a number of promotions including diverse marketing events with the Club's world-class players.
Hankook is already engaged as an official/premium partner and sponsor in various major international sports and motorsports activities: UEFA Europa League, BVB Borussia Dortmund (German 1st league soccer club), Northampton Saints rugby club (UK league), LOU rugby club (French league), DTM (Deutsche Tourenwagen Masters), FIA Formula 3 European Championship and more.