Oleh : Rio Nurhasdy – Digital Strategist Fortune PR
Tantangan Bisnis
Pemerintah menggandakan target kontribusi sektor Pariwisata dari 4% PDB (Produk Domestik Bruto) pada 2015 menjadi 8% pada 2019 dengan mendorong kenaikan jumlah turis asing menjadi 20 juta. Sebuah target yang ambisius dari pemerintah. Kunjungan wisatawan asing ke Indonesia saat ini mencapai 11,5 juta, masih kalah jauh dibandingkan kunjungan turis asing ke negara-negara tetangga seperti Singapura (15 Juta) atau Malaysia (27 Juta).
Elemen Infrastruktur dan Promosi dituding sebagai alasan Indonesia kalah bersaing dari negara lain. Untuk tantangan menjawab tersebut, pada 2016 Kementerian Pariwisata Indonesia menyelenggarakan kampanye digital "Trip of Wonder" dengan menggandeng para online influencers.
Insight and Execution
Pada kampanye ini, Kementerian Pariwisata mengundang 30 influencer & blogger di Asia Tenggara dan 10 influencer lokal untuk merasakan langsung pengalaman berwisata di Indonesia, terutama berwisata di lima destinasi Indonesia Wonders, yaitu natural, cultural, sensory, modern dan advanture wonders. I Gede Pitana dari Kementerian Pariwisata berharap kampanye ini dapat memperkenalkan dan menginspirasi turis mancanegara untuk datang ke Indonesia.
Influencers dan bloggers diminta membuat Video Blog (Vlog) di channel media sosial mereka sehingga fans mereka dapat melihat keindahan wisata di lima Indonesia Wonders tersebut. Kampanye ini menggunakan hashtag #WonderfulIndonesia.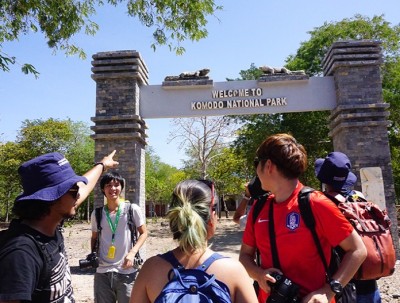 Tidak hanya mengundang para influencers dan bloggers, kampanye "Trip of Wonder' juga memungkinkan publik mancanegara dari Eropa, Timur Tengah, Afrika dan Amerika untuk datang berwisata ke Indonesia dengan mengikuti kuis di http://wonderful.indonesia.travel/tripofwonders.com. Di halaman web tersebut, publik mancanegara diajak untuk menjawab pertanyaan seputar Indonesia, seperti makanan atau lokasi wisata di Indonesia. Sebanyak 12 peserta kuis dengan nilai tertinggi (berhasil menjawab pertanyaan dengan benar dan membagikan informasi mengenai "Trip of Wonder"), masing-masing mendapatkan paket wisata ke Pulau Komodo (untuk dua orang), dan diwajibkan untuk meng-share pengalaman liburan mereka di sana.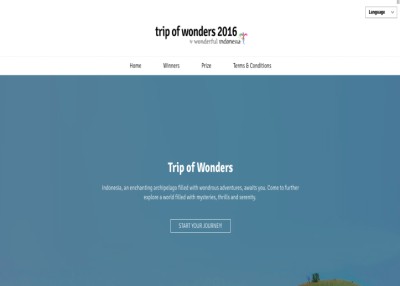 Results
Kampanye digital ini berhasil mendapatkan coverage video view dan share di saluran media sosial influencer dan peserta kuis. Rata-rata view di video influencer mencapai 5.000 hingga 10.000. Saat durasi kampanye pun, jumlah visitor website "Trip of Wonder" mencapai lebih dari 5.000 visit dengan jumlah kunjungan halaman rata-rata mencapai 3. Hal ini berarti ketertarikan pengunjung tidak hanya pada halaman pertama, melainkan juga pada halaman-halaman lainnya.
Hal yang lebih menarik adalah, penggunaan hashtag #WonderfulIndonesia yang pada awal masa kampanye hanya berjumlah 10 posting, pada akhir kampanye total hashtag mencapai 1.464.363! Hal itu tidak dihasilkan oleh influencers yang diundang semata, melainkan juga dari audiens umum. Oleh karenanya tidak heran, kampanye yang dijalankan sejak Agustus hingga Septermber 2016 ini berhasil meraih penghargaan sebagai Indonesia Brand Campaign of The Year 2017 karena berhasil memadukan pengalaman offline dan online yang mampu membuat tema "Wonderful Indonesia" didengar, dan mampu meningkatkan jumlah pengunjung hingga lebih dari 8.39% per tahun.
Real engagement secara offline yang dielaborasi dengan apik di digital ini berhasil memberikan efek besar, bukan hanya terhadap brand, melainkan terhadap Indonesia. Dengan melihat video para influencers favorit mereka, publik bisa melihat keindahan Indonesia, dan diharapkan bisa menggerakkan hati mereka untuk berkunjung ke Indonesia. 
This Article also published at http://mix.co.id/marcomm/kampanye-trip-wonder-untuk-wonderful-indonesia