By: Thomas Franky – Managing Director of Fortune PR
The Indonesian government has blocked online messaging service "Telegram" over concerns of terrorist related channels. As a PR Consultant, we can learn a few important lessons from this issue.
On July 14th 2017, the Ministry of Communication and IT of Indonesia blocked Telegram's web and also threatened to stop access to its app. As stated in Kompas, the Indonesian government claimed Telegram had been used to promote radicalism and to give instructions for carrying out terrorism values. In addition, the app is used to recruit Indonesians into militant groups and to spread hate and methods for carrying out radicalism including bomb making.
The issue started from miscommunication among Indonesian government and Telegram. The ministry had notified Telegram about the issue ever since March 29th last year up to last July 11th. When the blockade happened, Pavel Durov as the founder of Telegram stated that he initially felt strange with the blocking and claimed that he had never been contacted by a representative of the ministry. But later, Durov finally realized that the notification has been sent since last year.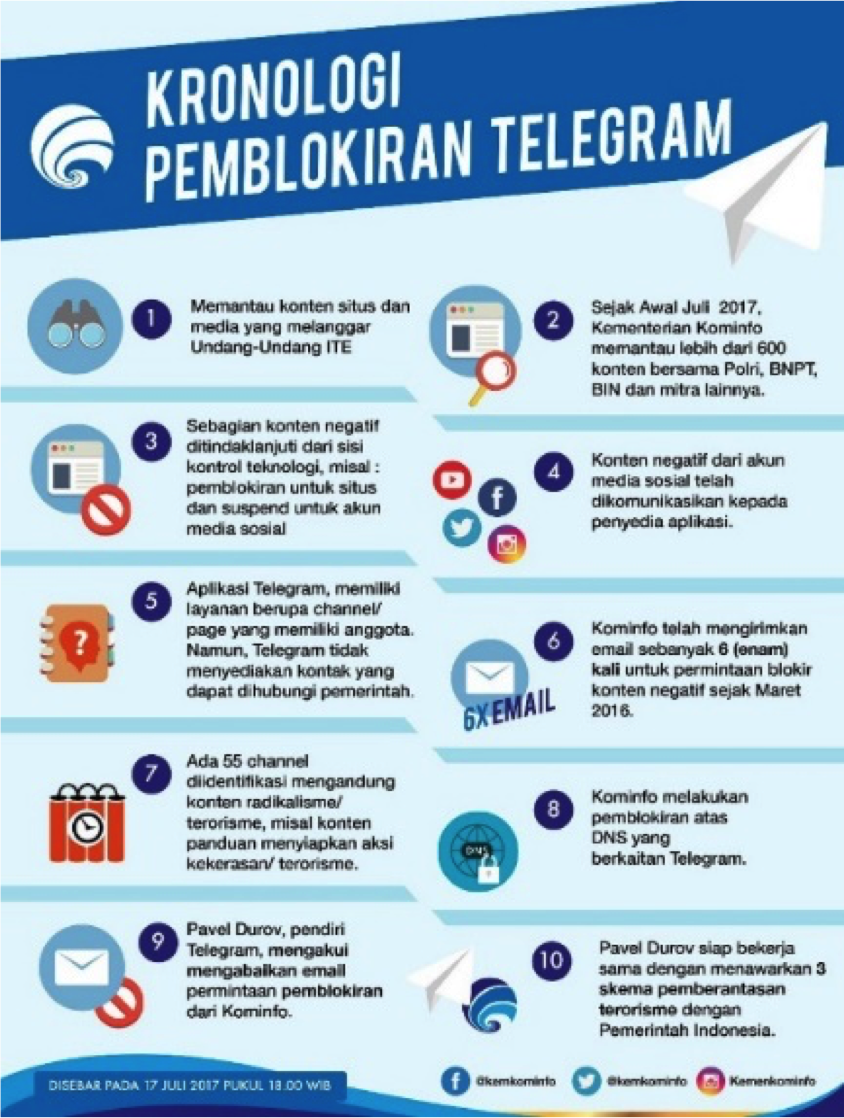 Image Source: Kemkominfo, Juli 2017
As a PR Consultant, we strive to help major global applications enter the Indonesian market. Therefore, it is important that we learn a few important lessons from this issue:
Digitally Engage with the Government
The last survey from the Indonesian Central Bureau of Statistics shows that the majority of government civil servants today are mostly at the age of 40 to 45 and 46 to 50 years old, and they are classified as digital immigrants. Different to digital natives or millennials who are born exposed to the internet and digital technologies, digital immigrants are those who were not born into the digital world but at some later point in their lives become fascinated by and adopted many or most aspects of the technology. As a PR Consultant, it is our job to engage the government civil servants in the ministry who are mostly digital immigrants, to improve their knowledge and skills about digital technologies.
Helping Clients Connect with Policy Makers
As a PR Consultant, we need to provide recommendations for our clients in the information technology industries to engage directly with Indonesian policy makers such as the Ministry of Communication and IT, the Creative Economy Agency, and the Ministry of Industry. It is important for our clients to communicate directly with those government officials, so if any problems occur the government can directly contact and resolve the issue through us or directly with our clients. This is an attempt to prevent issues like Telegram blockade due to miscommunication. Overall, being a PR Consultant today means you are expected to have expertise and skills to embrace internet technologies.