Strategi dan visi perusahaan yang telah disempurnakan dijabarkan pada white paper "M-ICT 2.0: VOICE for a Digital Future"
Jakarta, 30 Agustus 2016 – ZTE Corporation, penyedia jasa telekomunikasi, enterprise dan solusi teknologi konsumen untuk mobile internet, hari ini mengumumkan white paper tentang visi dan strategi M-ICT 2.0 yang akan menjadi panduan arah perusahaan untuk lima tahun ke depan.
M-ICT 2.0 difokuskan pada peluang-peluang kunci berikut: inovasi bisnis, rekonfigurasi model bisnis, dan peningkatan modal. Integrasi holistik tiga faktor kunci ini akan mendorong perubahan industri yang besar-besaran dan memacu perkembangan yang signifikan bagi perekonomian digital masa depan.
Strategi M-ICT 2.0 dari ZTE dirancang untuk membantu para pelaku bisnis menangkap berbagai peluang dalam perekonomian yang ditandai dengan kebangkitan ekonomi berbagi dan penggunaan jaringan peer-to-peer yang makin meluas, serta bergantung pada berbagai jenis platform dan layanan cloud computing.
M-ICT 2.0 didasari oleh lima tren kunci yang ZTE percaya akan memainkan peran penting dalam transformasi ekonomi global yang sedang berlangsung, yakni ekonomi yang terbuka, saling berbagi dan digital. Tren-tren ini di antaranya adalah: Virtuality, Openness, Intelligence, Cloudification dan Interconnection of Everything.
Virtuality – integrasi antara dunia fisik dan dunia virtual dengan pengalaman nyata yang dihadirkan melalui Big Video, VR dan AR
Opennes – transisi dari model bisnis tradisional berbasis kompetisi menuju kolaborasi yang erat dengan basis keterbukaan.
Intelligence – menjadikan segala hal memiliki kecerdasan, yang meningkatkan interaksi dan menumbuhkan kecerdasan pada level yang beragam.
Cloudification – platform cloud yang menjadi dasar untuk menjalankan ekonomi digital.
Internet of Everything – dan operasi-operasi yang saling berkolaborasi.
Tren-tren teknologi ini – dirumuskan dalam singkatan VOICE – akan mendorong kolaborasi inovatif dan kemajuan serempak di berbagai bidang. Selama lima tahun ke depan, ZTE akan berfokus pada VOICE dan dampak tren-tren tersebut terhadap individu serta pihak yang saling terhubung dalam mengembangkan produk dan layanan.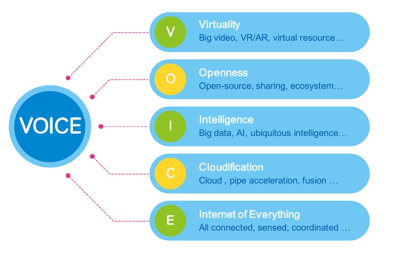 "Dipandu oleh strategi dan solusi yang terkandung dalam M-ICT 2.0, ZTE akan mendorong perkembangan pesat, berkelanjutan dari industri ICT global," kata Dr Zhao Xianming, CEO dari ZTE. "Seiring kami memanfaatkan tren VOICE, kami akan berani mencoba model bisnis yang baru, serta menyempurnakan praktik yang ada untuk menangkap peluang-peluang pasar yang besar bagi ZTE, mitra dan pelanggan kami."
Untuk informasi lebih lanjut, silahkan unduh white paper ZTE "M-ICT 2.0: VOICE untuk Digital Future":
http://res.www.zte.com.cn/global/~/media/zte/Files/PDF/MICT2/MICT_20ENFinal.pdf