Photo: One of the main attraction of Lenovo #CitizensofTMRW Exhibition, where visitors can design their dream laptop.
As one of the leading PC brand in the world, Lenovo truly recognized that every tech-savvy people living in the digital era today needed laptops. To answer the increasing demand for futuristic laptops, Lenovo engaged their customers to design their own laptop through the #CitizensofTMRW Campaign.
The #CitizensofTMRW Campaign wanted to tell the story about the passage of time, reminding customers about their future plans for life, work, studies, and daily entertainment. To gain a rich customers' insight and increase their customers' engagement, the company asked the public to participate in designing a futuristic laptop. By collaborating with Microsoft, Lenovo invited visitors in the exhibition to design their dream laptop for the future.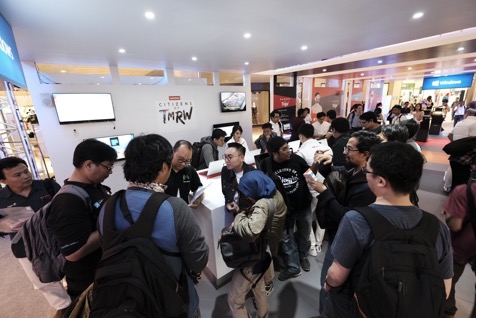 Photo: The enthusiastic visitors at Lenovo's #CitizensofTMRW exhibition.
Niko Radityo as the Associate Director of Fortune PR who handled both Lenovo's exhibition and the campaign said "Nowadays, Lenovo has a guided customer-centric. That means all of Lenovo's innovation were gained from a rich customer insight. They dig information about what kind of laptop that their customers want and need. Through the #CitizensofTMRW Campaign, Lenovo continues to engage the public in creating a suitable and futuristic laptop."